The government has been very clear with their intention that they want to see all schools joining/forming a MAT. The reality is that the governors and leaders of high quality schools are best placed to decide what is best for their particular school in their particular circumstances.
The Shires MAT recognises this and has established a Trust where Headteachers are exactly that, Headteachers who run their schools to ensure high quality educational experiences whilst supported by a central team.  The central offer reduces the time head teachers need to spend on business or administrative function so they have the time to devote to leading educational provision within their schools.
The Trust has established at the 'autonomy' end of MAT structures, with local governing bodies and head teachers leading the unique ethos and offer for their particular school. We have very different schools within the Trust ranging from secondary to primary, C of E, large and small.
The Shires MAT school development operates within a pillars model.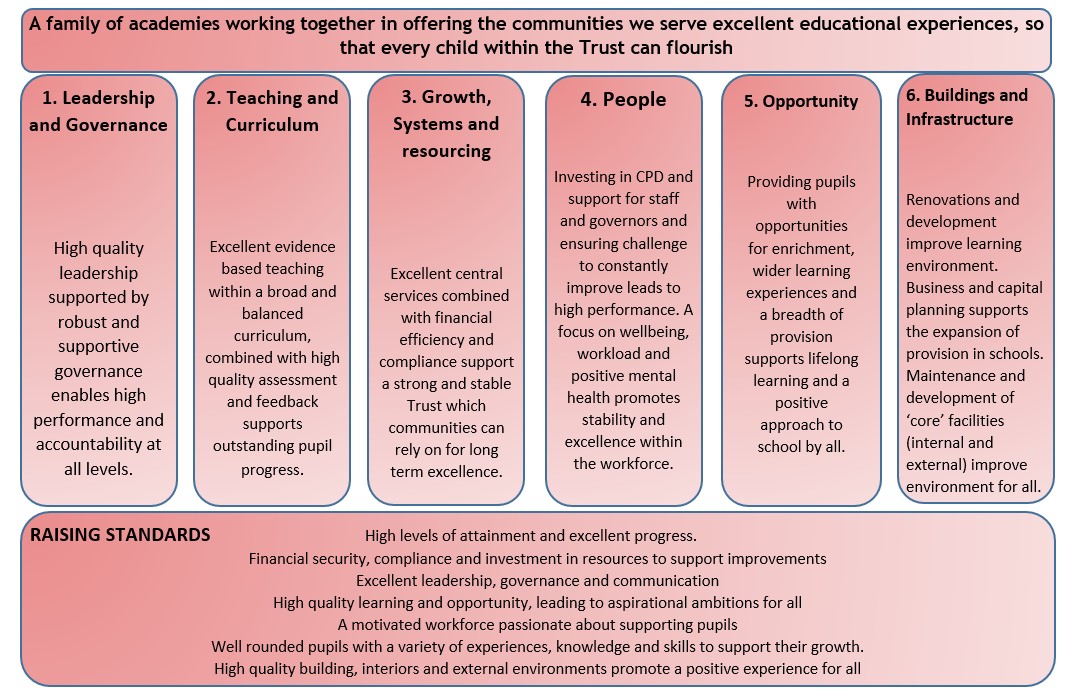 Our strategic planning maintains a focus on each pillar and this feeds into school development plans for each of our academies. However, each school focuses on different priorities based on their current provision and any evidence gathered. Aspects such as Buildings and Infrastructure can be managed more centrally, in partnership with schools, to ensure a school's vision is delivered, enabling Headteachers to focus on other strands such as Teaching and Curriculum and People, for example.
We have an excellent relationship with the Diocese of Worcester and have established the Trust with Articles of Association and a memorandum of understanding that allows Voluntary controlled C of E schools within Worcestershire to join our MAT. With both primary and secondary schools in the MAT already we would welcome approaches from any schools considering joining a MAT and would be happy to discuss further.
We have made great progress in developing our wider MAT offer following formation and we are looking forward to welcoming more schools into the Shires MAT, so that they can benefit from the collaboration and central offer, whilst also contributing significantly to the collaborative approach to school and Trust development as our MAT grows.